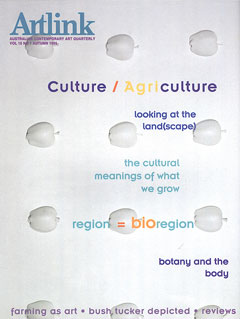 Culture/Agriculture
Vol 15 no 1, 1995
Looking at the Landscape, the cultural meanings of what we grow, region = bioregion, botany and the body, farming as art, bush tucker as well as reviews of exhibitions and books make up this feast of an issue.
You are here
»
Artlink
»
Vol 15 no 1, 1995
»
The Food Chain Starts Here
The Food Chain Starts Here
Author: Mr Djon Mundine, feature
"We are walking along, sister, singing and making country with the point of our digging sticks. What is that sister? A mangrove shell. We must put it within the mouth of this mat and hide it, making it sacred...Indeed it is sacred to us. Explores the importance of the mangroves to the indigenous people in northern Australia and the links to the Dreaming and their artistic representations."
The full text for this article is yet to be uploaded.
---
Subscribe to the Artlink newsletter now