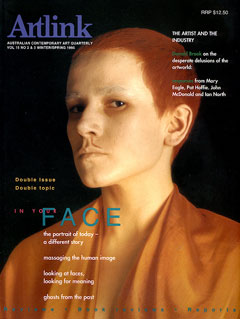 The Face
Vol 15 no 2&3, 1995
Double issue. Major discussion of the artist and the industry - a provocative article with responses as well as an examination of issues in portraiture-- in your face, looking for meaning, looking at faces, ghosts from the past-- the portraits of today tell a different story.
You are here
»
Artlink
»
Vol 15 no 2&3, 1995
»
The Mask Behind the Mask
The Mask Behind the Mask
Author: Mr John Muirhead, feature
Rei Zunde is a photographer and painter working in Melbourne. His recent photographic work records specific cultural or sub-cultural worlds - rodeos, tattooed men and women, suburban football teams and their supporter and circus workers and their animals.
---
Subscribe to the Artlink newsletter now