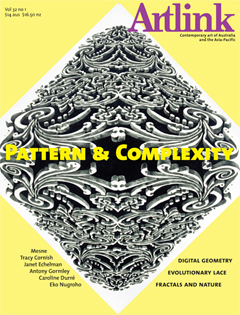 Pattern & Complexity
Vol 32 no 1, 2012
Guest edited by Margot Osborne
Pattern and complexity in art parallel the latest scientific thinking mathematics and biology and can be cultural metaphors for the tensions between order and chaos. The works discussed are part of a global resurgence in the use of highly complex forms created, often with advanced technology, as paintings, digital imagery, 3D art, interactive works and public art interventions. Some reflect fundamental building blocks of our reality in the form of fractals and complex systems, others use more intuitive approaches. Artists include Caroline Durre, Sam Songaillo, Mesne, Tracy Cornish, Paul Brown, Kerrie Poliness, Champagne Valentine, Gregor Kregar, Antony Gormley and Janet Echelman. Other sections include polemic by Alison Carroll on Australian art overseas and new work by Eko Nugroho.
You are here
»
Artlink
»
Vol 32 no 1, 2012
»
Helen Fuller: Bless this mesh
Helen Fuller: Bless this mesh
Author: Mr John Neylon, Profile
Critic and author John Neylon unpacks the long and illustrious career of Helen Fuller who has turned to handbuilding clay vessels in the last three years. He writes: "Responding to patterns of connection based on colour, shape, functionality, memory or caprice is the hallmark of Fuller's behaviour as an artist. The pas de deux of pattern-based painting and patterning embedded within objects is a constant reminder of the role which patterning, particularly grid and checkered, continues to play in expressing an inner state of mind which simultaneously celebrates and defies a call to order. "
---
Subscribe to the Artlink newsletter now