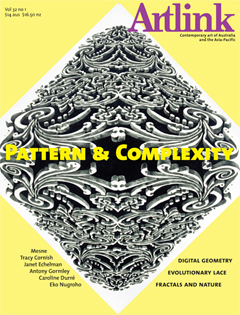 Pattern & Complexity
Vol 32 no 1, 2012
Guest edited by Margot Osborne
Pattern and complexity in art parallel the latest scientific thinking mathematics and biology and can be cultural metaphors for the tensions between order and chaos. The works discussed are part of a global resurgence in the use of highly complex forms created, often with advanced technology, as paintings, digital imagery, 3D art, interactive works and public art interventions. Some reflect fundamental building blocks of our reality in the form of fractals and complex systems, others use more intuitive approaches. Artists include Caroline Durre, Sam Songaillo, Mesne, Tracy Cornish, Paul Brown, Kerrie Poliness, Champagne Valentine, Gregor Kregar, Antony Gormley and Janet Echelman. Other sections include polemic by Alison Carroll on Australian art overseas and new work by Eko Nugroho.
You are here
»
Artlink
»
Vol 32 no 1, 2012
»
Openwork patterns: Love Lace
Openwork patterns: Love Lace
Lindie Ward, Feature
Powerhouse Museum Curator of Textiles Lindie Ward discusses the groundbreaking 'Love Lace' exhibition on show at the Powerhouse until April 2013. A globally sourced series of works it showcases 130 designs for openwork structures from 20 countries.
---
Subscribe to the Artlink newsletter now