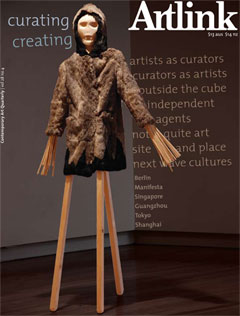 Curating : Creating
vol 28 no 4, 2008
The creativity in curating. Are curators really artists in disguise? and how far does the way in which they conceive and execute big shows, in particular biennales, influence the direction of art practice? What makes one curatorial program worthy but dull and another sparkling and engaging? Artists and curators share their expert knowledge on new attitudes and perceptions of visual culture, ingenuity, innovation, global exchange, curating in Asia, place and site, career trajectories from artist to curator to museum director and training options for wannabe curators. The Berlin, Singapore, Taipei, Shanghai, Sydney Biennales and Manifesta are examined. New rules of engagement with the public via private and state sponsored enterprises and visionary futures. Writers include Felicity Fenner, Adam Jasper, Nada Prlja, Reuben Keehan, Alison Carroll, Kevin Wilson and Marcus Westbury. Plus book and exhibition reviews and more. Editor Stephanie Britton.
You are here
»
Artlink
»
vol 28 no 4, 2008
»
Back from the brink: culture in Timor-Leste
Back from the brink: culture in Timor-Leste
Joanna Barrkman, feature
The Museum and Art Gallery of the Northern Territory (MAGNT)'s Curator of Southeast Asian Art and Material Culture Joanna Barrkman curated Husi Bei Ala Timor Sira Nia Liman /From the Hands of Our Ancestors which is on at MAGNT in Darwin from 21 November 2008 to 12 July 2009. The show celebrates the survival of Timor-Leste's cultural inheritance and asks whether traditional art forms and techniques have a role to play in the formation and assertion of Timor-Leste's national and cultural identity.
---
Subscribe to the Artlink newsletter now