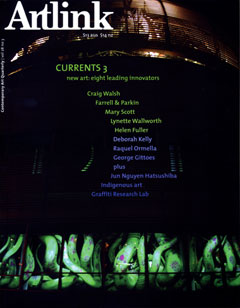 Currents III
vol 28 no 3, 2008
Where is some of the best art being made in Australia and who is making it? Our biennial CURRENTS series of in-depth essays is a mini-survey of work by eight mid-career artists who have hit their stride. Craig Walsh, Raquel Ormella, Helen Fuller, Mary Scott, George Gittoes, Farrell & Parkin, Lynette Wallworth and Deborah Kelly work in a wide range of media and out of a range of geographies. Other features are Tim Acker's insights into current challenges faced by Indigenous artists with forgeries and ripoffs still happening, and a look at the Graffiti Research Lab who visited Adelaide recently. Plus book and exhibition reviews and more. Editor Stephanie Britton.
You are here
»
Artlink
»
vol 28 no 3, 2008
»
Uneasy: Recent South Australian Art
Uneasy: Recent South Australian Art
Niki Sperou, review
Uneasy: Recent South Australian Art
Curator: Timothy Morrell
Samstag Museum of Art, University of South Australia
20 June – 17 August 2008

Think globally, act locally& To coincide with the South Australian Living Artists Festival, Uneasy is the Samstag Museum's first survey of contemporary South Australian art. Curator Timothy Morrell has brought together works which take us out of our comfort zone. Misfit becomes a suitable allegory for a city which Morrell describes as 'uncomfortable in its own skin'. South Australia's historical past and its current socio-political climate dictate Adelaidian fears and apprehensions and manifest them as a form of neurosis. The fifteen artists selected for this exhibition are at varying stages in their careers but are united in that they address international issues, which shape and challenge our existence, from a local perspective: the environment, terrorism, identity, computer malfunction, body image, land rights and those untameable visceral phobias which persist beyond acceptable margins of containment, proximity and scale.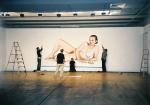 View Larger Image

Annette Bezor Blush (installation) 2002, oil on canvas, 270 x 480 cm. Courtesy the artist and Greenaway Art Gallery, Adelaide.
Currently topical, but a long-term focus of Fiona Hall's work, are issues of environmental damage, extinction and colonisation. Nature on the defence is present in Hall's Stronghold, a video work of a tarantula in a bucket. Her use of containers and vitrines reminds us that nature inhabits a finite space.
Matthew Bradley references Adelaide's link to terrorism, by parodying the well-known image of David Hicks sporting a rocket launcher. Bradley contemplates whether nature or nurture is the root cause of delinquency while Annabelle Collett's Gitmo Wear orange boiler suits, hung, hooked and chained allude to the torture of prisoners in Guantanamo Bay. On a variation of the theme, her camouflaged apparel shows fashions more suited to the domestic rather than the war zone. Strangely contradictory too is her Liberty style floral print burkha. Aldo Iacobelli and Yhonnie Scarce draw on personal experience to comment on the commodification of marginalised cultures as resources to be refined, reshaped and repackaged. Sarah crowEST's video caught in a loop is a series of monologues by actors who lip sync to tales told by artists familiar within the Adelaide art scene. The dubbing of voices to disparate faces offers a humorous twist further blurring the boundaries between fiction and reality.

John Barbour and Michelle Nikou embrace the indecisive, odd and awkward with works well-considered conceptually but with an unfinished finish. Ariel Hassan, Deborah Sleeman and Annette Bezor work with excessive bodily proportions to expose hidden desires and human shortcomings. Suggesting life teeters on a fine balance, Hossein Valamanesh's scroll of saffron calligraphy delicately documents the cyclical waxing and waning of love and in another work a ladder leads to an upside down world reflected within a porthole of a mirror; some undiscovered country. With seemingly contrasting outcomes but both emerging from studies in photography Nici Cumpston and Tracy Cornish capture images of found ephemera. Their abstract compositions are sourced from the land and technology respectively.


Rather than mechanical reproduction but through the act of touching Daryl Austin examines the idea of artwork as fetish. The deadpan expression of his models and the hyper-real rendering of paint make them naked rather than nude. And surprisingly the unclothed body is still a matter of contention. Recent controversy regarding nudity and censorship startled much of the art community. The problem was the age of the models and perhaps the medium of photography is too real, too confronting. In contrast the painted nude, one would have thought, would no longer uphold the authority to shock. However upon exiting the Samstag Museum I overheard a complaint call; Annette Bezor's painted nude, Blush, described in the exhibition catalogue as 'a wall of flesh', was said to be positioned too close to the gallery door. It seems the image of this oversized nude spilling out into the public domain and thus out of the context of the gallery space made the caller feel anxious. Things which make us uneasy hit too close to home.

---
Subscribe to the Artlink newsletter now