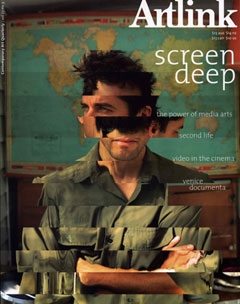 Screen Deep
vol 27 no 3, 2007
SCREEN DEEP edited by Julianne Pierce looks at the global phenomenon that is moving image in the artworld. In the last five years video art, formerly a marginal form, has become mainstream. Having moving image in an exhibition is now de rigueur, but critique of much of the vast output of video artists is still tentative. A great team of writers wade into this debate with gusto providing a panoramic view of the state of play from magisterial works to Second Life and MySpace. The blurring of distance between film and other forms of moving image is explored.
You are here
»
Artlink
»
vol 27 no 3, 2007
»
Taipei 101: Video at the National Palace Museum
Taipei 101: Video at the National Palace Museum
Merilyn Fairskye, feature
Merilyn Fairskye briefly discusses her journey to Taipei where she took part in an exhibition of video installations 'Discovering the Other', the first ever contemporary art exhibition to be held at the National Palace Museum. Curator Gertjan Zuilhof's discription of this exhibition can be seen as a metaphor for his world view – shadows, spirits and ghosts seemed to be everywhere, while at the same time the works engaged with the world of people and place, and the precarious struggle to maintain individual and cultural identities.
Featured artists included: Deborah Stratman, Ella Raidel and Lin Hongjohn, Apichatpong Weerasethakul and Merilyn Fairskye.

---
Subscribe to the Artlink newsletter now