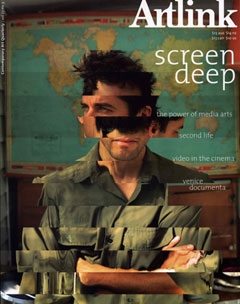 Screen Deep
vol 27 no 3, 2007
SCREEN DEEP edited by Julianne Pierce looks at the global phenomenon that is moving image in the artworld. In the last five years video art, formerly a marginal form, has become mainstream. Having moving image in an exhibition is now de rigueur, but critique of much of the vast output of video artists is still tentative. A great team of writers wade into this debate with gusto providing a panoramic view of the state of play from magisterial works to Second Life and MySpace. The blurring of distance between film and other forms of moving image is explored.
You are here
»
Artlink
»
vol 27 no 3, 2007
»
Databases: Recombinant Interactives
Databases: Recombinant Interactives
Author: Ann Finegan, feature
Ann Finegan looks at the world of interactive media arts, in particular database content interactivity. One example Finegan uses in her discussion is Josephine Starrs and Leon Cmielewski's 'Seeker', winner of an Award for Distinction for Interactive Art at Ars Electronica 2007. Seeker belongs to an emergent genre of database works which draw from the broader media, putting the viewer into the web of connections through which the forces of politics and economics determine the fate of peoples and of persons. Other artists discussed are Josh On, Lev Manovich, Linda Dement, Troy Innocent, Doll Yoko (aka Francesca da Rimini aka Gash Girl), Stephen Honegger, Rachel Baker, John Tonkin and Barbara Campbell. Finegan proclaims that at present the future of interactives is weighed in a choice between the seductive action of computer gaming as sites for artistic intervention, and data-mapping with its deep and active connections in realworld events.
---
Subscribe to the Artlink newsletter now