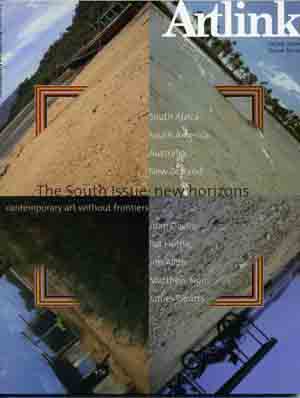 The South Issue: New Horizons
vol 27 no 2, 2007
Beyond the well-trodden Northern Hemisphere centres, Indigenous and non-Indigenous artists in South Africa, Chile, the Maldives, New Zealand, Pakistan, Singapore and Australia establish an idea of South which goes beyond geography, extending old boundaries and ideas through dialogue, collaboration and exchange. Issues of curating outside the mainstream mingle with audacious new works which bring the viewer into unfamiliar territory. Editor Stephanie Radok travelled to Santiago in Chile to join the third South Gathering of the ground-breaking South Project organised by Craft Victoria in Melbourne.
You are here
»
Artlink
»
vol 27 no 2, 2007
»
Matthew Ngui: public artist
Matthew Ngui: public artist
Ted Snell, feature
Matthew Ngui is a Singaporean born, Australian artist who makes intriguing and engaging public artworks that embrace the history of a given site. Ngui is fascinated by the ways in which we interact with artworks and the individual nuances and understandings each person brings to the encounter. Ngui describes his work as 'often loose, and multifarious, sometimes tenuous and always fragile'. Scale and ambition are other easily identifiable elements in Ngui's practice, whether it be transforming a cityscape with lights or covering a Swiss Village in an avalanche of 350,000 bouncing balls, each emitting a light and a whispered message.
---
Subscribe to the Artlink newsletter now