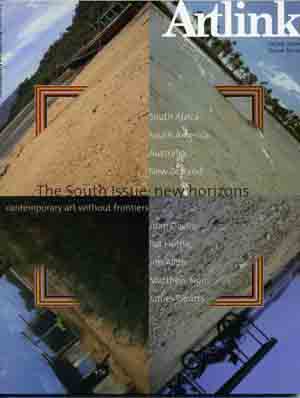 The South Issue: New Horizons
vol 27 no 2, 2007
Beyond the well-trodden Northern Hemisphere centres, Indigenous and non-Indigenous artists in South Africa, Chile, the Maldives, New Zealand, Pakistan, Singapore and Australia establish an idea of South which goes beyond geography, extending old boundaries and ideas through dialogue, collaboration and exchange. Issues of curating outside the mainstream mingle with audacious new works which bring the viewer into unfamiliar territory. Editor Stephanie Radok travelled to Santiago in Chile to join the third South Gathering of the ground-breaking South Project organised by Craft Victoria in Melbourne.
You are here
»
Artlink
»
vol 27 no 2, 2007
»
James Geurts: 90 degrees equatorial
James Geurts: 90 degrees equatorial
Mr Ian Hamilton, feature
James Guert's recent show at the Experimental Art Foundation in Adelaide is described through this article to have induced an almost trance-like state – from the arrangement of the four square light boxes, depicting scenes from four 'sites of interception' to the four large digital projections humming with visual and auditory stimuli. The focus of this text is on Guert's remarkable journey to the four corners of the globe. The corners are literally represented by smallish triangle objects of inner lit plastic photographed and composed to construct a full form of the globe. The way they are presented, as foreign objects in the landscape, raise questions about the way the 'west' relates to the wider world. In the particular settings Guerts has used, all being sites on or near the sea, the corners are impositions, objects at odds with the surrounding environments. This is enforced as a reminder about the extent that the West continues to impose its will on even the most remote communities.
---
Subscribe to the Artlink newsletter now