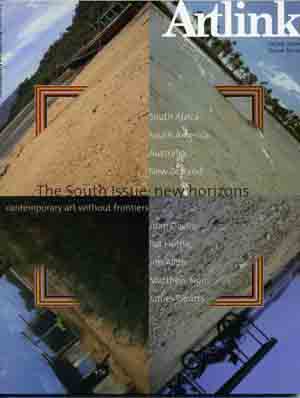 The South Issue: New Horizons
vol 27 no 2, 2007
Beyond the well-trodden Northern Hemisphere centres, Indigenous and non-Indigenous artists in South Africa, Chile, the Maldives, New Zealand, Pakistan, Singapore and Australia establish an idea of South which goes beyond geography, extending old boundaries and ideas through dialogue, collaboration and exchange. Issues of curating outside the mainstream mingle with audacious new works which bring the viewer into unfamiliar territory. Editor Stephanie Radok travelled to Santiago in Chile to join the third South Gathering of the ground-breaking South Project organised by Craft Victoria in Melbourne.
You are here
»
Artlink
»
vol 27 no 2, 2007
»
Walks and Transmissions: Santiago
Walks and Transmissions: Santiago
Artist: Mr Tom Nicholson, feature
Tom Nicholson is led by Galeria Metropolitana's co-director Luis Alarcon through an area of Santiago, which exists for the most part as a wasteland brought down during Pinoche's dictatorship. In one of the neighbouring suburbs, La Victoria, Nicholson learns of some of the area's history - being inhabited by landless people in 1957 - and of the commemorative action that takes place annually to mark this occupation. In accordance with these activities, Galeria Metropolitana held an event which featured the work of Aotearoan/New Zealand artist Daniel Malone and which brought attention to the different - and often conflicting - claims to truth with which words and images articulate experiences and aspirations.
---
Subscribe to the Artlink newsletter now