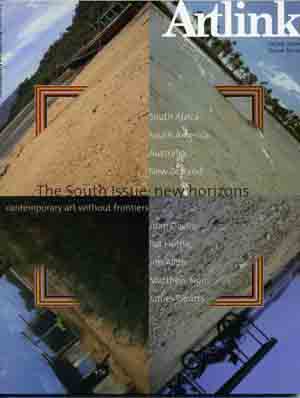 The South Issue: New Horizons
vol 27 no 2, 2007
Beyond the well-trodden Northern Hemisphere centres, Indigenous and non-Indigenous artists in South Africa, Chile, the Maldives, New Zealand, Pakistan, Singapore and Australia establish an idea of South which goes beyond geography, extending old boundaries and ideas through dialogue, collaboration and exchange. Issues of curating outside the mainstream mingle with audacious new works which bring the viewer into unfamiliar territory. Editor Stephanie Radok travelled to Santiago in Chile to join the third South Gathering of the ground-breaking South Project organised by Craft Victoria in Melbourne.
You are here
»
Artlink
»
vol 27 no 2, 2007
»
Cape 07
Cape 07
Thembinkosi Goniwe, feature
Cape 07 was a large-scale contemporary African art event which took place in various locations across Cape Town, South Africa this year. Cape 07's main exhibition the 'Lions of Contemporary African Art' featured the works of 45 African artists. The entire event was conceived as an attempt to establish creative dialogue between different artists and regions involved. This article briefly discusses some of the many venues and artists showcased as part of an event which was ultimately an edited version of the cancelled Trans Cape biennale. Cape 07 was curated by Gabi Ngcobo with Jonathan Garnham as project manager.
---
Subscribe to the Artlink newsletter now