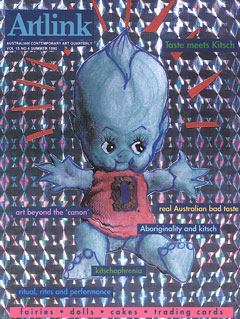 Taste Meets Kitsch
Vol 15 no 4, 1995
Guest editor Juliette Peers. A bold and challenging issue that examines taste and kitsch, art beyond the 'canon', real Australian bad taste, Aboriginality and kitsch, kitschophrenia, ritual, rites and performance, fairies, dolls and trading cards. Only for the really bold!
You are here
»
Artlink
»
Vol 15 no 4, 1995
»
Bigs R Us
Bigs R Us
Paul Ryan, feature
Australians have a natural thirst for objects of grand scale, however ridiculous their theme or location or context. From big sandfly, big axe to big oyster and beyond, we are the big desert island that experiences big wets and big dries, little wonder someone made a Big Tap to remind us...we are big drinkers.
The full text for this article is yet to be uploaded.
---
Subscribe to the Artlink newsletter now