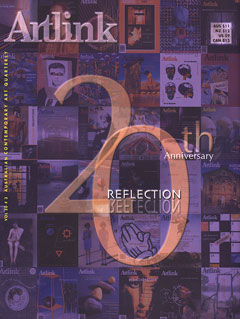 Reflection: 20th Anniversary Issue
Vol 20 no 3, 2000
Guest editor Stephanie Radok Looking back and looking forward. Revisiting some of Artlink's favourite themes over the 2 decades and offering new perspectives for the next decade: ecology, new media, regional arts, Indigenous art, museum practice, craft, theories of art especially that of Donald Brook, multiculturalism and social change. Also an account of Artlink's last decade. Reviews.
You are here
»
Artlink
»
Vol 20 no 3, 2000
»
Craft Theory
Craft Theory
Suzi Attiwill, feature
The twentieth anniversary of Artlink has provided an occasion for an article on the current state of craft theory and its ramifications. This article gathers and presents a knowledge that eddies around craft and engages in the ontology of craft theory. Its aspirations: for craft theory to be not only approached from the point of view of the useful, instrumental or skilful but as offering new ways of moving and thinking. William Morris, Adolf Loos, David Walker, Sue Rowley, Grace Cochrane, Justin Clemens, Mark Pennings, Kevin Murray, Gilles Deleuze, Nicole Tomlinson, John Rajchman, Felix Guattari, Tony Fry, Frances Lindsay and Paul Carter are discussed through this text.
---
Subscribe to the Artlink newsletter now