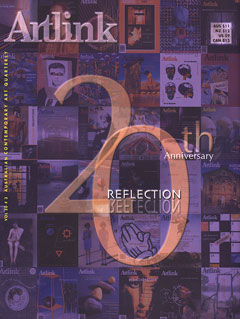 Reflection: 20th Anniversary Issue
Vol 20 no 3, 2000
Guest editor Stephanie Radok Looking back and looking forward. Revisiting some of Artlink's favourite themes over the 2 decades and offering new perspectives for the next decade: ecology, new media, regional arts, Indigenous art, museum practice, craft, theories of art especially that of Donald Brook, multiculturalism and social change. Also an account of Artlink's last decade. Reviews.
You are here
»
Artlink
»
Vol 20 no 3, 2000
»
Modern Machine Art
Modern Machine Art
Author: Mr Simon Penny, feature
Information processing technology influences our notions about creativity, perception, and the limits of art & It & is probably not the province of computers and other telecommunication devices to produce works of art as we know it; but they will, in fact be instrumental in redefining the entire area of esthetic awareness."
---
Subscribe to the Artlink newsletter now