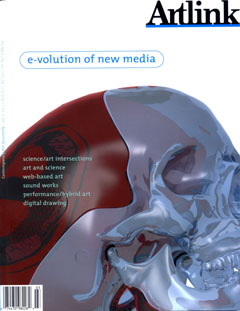 E-volution of New Media
Vol 21 no 3, 2001
Guest editor Kathy Cleland With computers now regarded as just another tool for artists, digital art is becoming accepted as a medium for art. Less understood is that the internet is potentially a powerful new way of showing art.Web-based art, soundworks, and writing are all explored as well as hybrid forms using imaging tools developed for microbiology, or performance works involving machines and digital images. The blurring of art and popular culture is a recurring theme. The difference between traditional and digital drawing is explored. Reviews and obituaries.
You are here
»
Artlink
»
Vol 21 no 3, 2001
»
Inframedia Audio: Glitches and Tape Hiss
Inframedia Audio: Glitches and Tape Hiss
Author: Mr Mitchell Whitelaw, feature
This article focuses on that which is known as 'sound art', 'new media art' or if a label is required the best might be simply 'audio'. It is not so much a sound as a transparent substrate for organised expression but rather sound being mediated, synthesised, generated, collaged. Furthermore this article looks at the in-between sounds - the glitches, clicks, pops, and CD-skips - with many artists drawing on these entropic internal workings of audio processing systems. Artists include Nam June Paik, Minit, David Haines, Vicky Browne, Andrew Gadow and Netochka Nezvanova.
---
Subscribe to the Artlink newsletter now