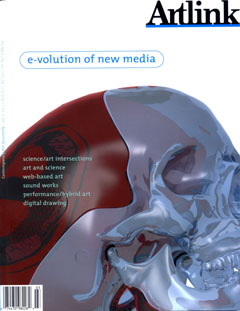 E-volution of New Media
Vol 21 no 3, 2001
Guest editor Kathy Cleland With computers now regarded as just another tool for artists, digital art is becoming accepted as a medium for art. Less understood is that the internet is potentially a powerful new way of showing art.Web-based art, soundworks, and writing are all explored as well as hybrid forms using imaging tools developed for microbiology, or performance works involving machines and digital images. The blurring of art and popular culture is a recurring theme. The difference between traditional and digital drawing is explored. Reviews and obituaries.
You are here
»
Artlink
»
Vol 21 no 3, 2001
»
An Ecology of OZ Mutant Media
An Ecology of OZ Mutant Media
Jean Poole, feature
Wade Marynowsky, aka Spanky is a software engineer who has coded a new program which allows audio-video samples to be collated for the live performance of a particular 'song', triggered live through a preferably loud sound system and video projector. This innovation marks a step forward in the realm of audio-video intersection and hybridisation. The recent emergence of VJ's (Vidi-yo Jockeys), artists who combine computer and VHS source materials to play with visual rhythms, create atmospheres, tell stories, respond to the music and provide visual stimulus also play a crucial role in this new media arena. Other new media collectives such as Shut up & Shop, Kraftwerk, the Distributed Audio Sequencer Environment crew and Labrat are here discussed.
---
Subscribe to the Artlink newsletter now