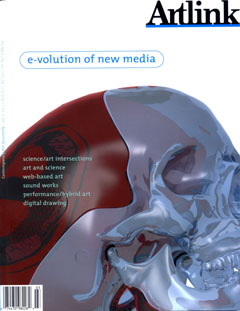 E-volution of New Media
Vol 21 no 3, 2001
Guest editor Kathy Cleland With computers now regarded as just another tool for artists, digital art is becoming accepted as a medium for art. Less understood is that the internet is potentially a powerful new way of showing art.Web-based art, soundworks, and writing are all explored as well as hybrid forms using imaging tools developed for microbiology, or performance works involving machines and digital images. The blurring of art and popular culture is a recurring theme. The difference between traditional and digital drawing is explored. Reviews and obituaries.
You are here
»
Artlink
»
Vol 21 no 3, 2001
»
Digital Drawing: The Same But Different
Digital Drawing: The Same But Different
Author: Mr Mike Leggett, feature
Drawing - the use of line and tone - is at the other end of a technology timeline currently unravelling in the digital age of information. The theory and practice of drawing ranges from a tool for honing perceptual disciplines to one that permits the free-flow of the obsessive-compulsive component of our personalities. Leggett looks at the works of artists Paul Thomas, Maria Miranda, Harriet Birks, Alyssa Rothwell, Mr Snow, Peter Callas, Simon Biggs and Damien Everett and the various digital tools they employ to assist in the documenting and 'drawing out' of their individual ideas.
---
Subscribe to the Artlink newsletter now