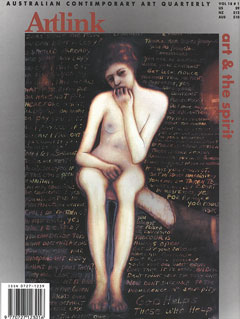 Art & the Spirit
Vol 18 no 1, 1998
Wide-ranging responses to issues of spirituality in the visual arts. Looks at the role of indigenous art and its relationship to land. Examines significant contemporary exhibitions addressing art and the spirit.
You are here
»
Artlink
»
Vol 18 no 1, 1998
»
Where Eagles Hover
Where Eagles Hover
Author: Mr Maurice O+Riordan, feature
Any discussion of the sacred and spiritual in Australian art must surely defer to the art of Aboriginal people for theirs is the art and culture which speaks most directly and profoundly about the connection of human spirituality to the Australian landscape.
---
Subscribe to the Artlink newsletter now