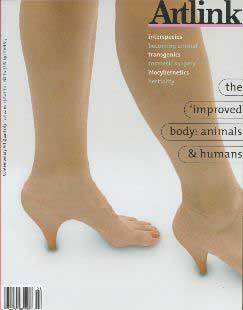 The 'Improved' Body: animals & humans
Vol 22 no 1, 2002
The implications of the new biotechnology for the human body and for the future of the species is visualised. Recent revelations that genetic makeup of animals is much closer to humans than was previously thought and possibilitues of trans-species hybridity is no longer just the stuff of myth or science fiction. Artists ask: how do we feel about becoming even closer to the animals we share the planet with? Current trends in surgery for transgender and cosmetic changes challenge notions of bodily identity. Writers include WJT Mitchell (Chicago) on Biocybernetics, George Alexander on Julie Rrap, Victoria Ryan on cosmetic surgery and art, Jane Goodall on Ella Dreyfus, Bronwyn Platten on bestiality, Anne Quain on transgenic pets.Also beautifully illustrated features on the works of Monika Tichacek, Sharon Goodwin, Michele Barker, Lynne Roberts-Goodwin, Juan Ford, Stelarc, Ionat Zurr and Oron Catts, Ray Cook, Helen Kundicevic, John Kelly, Jane Trengove, Stephen Holland and Tiffany Parbs.
You are here
»
Artlink
»
Vol 22 no 1, 2002
»
Similarities, Gen-et(h)ic Boundaries, and Respect for Otherness
Similarities, Gen-et(h)ic Boundaries, and Respect for Otherness
Barbara Noske, feature
This article discusses a specific aspect of the human/ animal relationship and of communication in and between species. It points to a few specific experiments which have been conducted to try and bridge the gap between human and animal connectivity and relatedness. Furthermore it recognises the different ways animals and humans relate to and view the world around them, whether it be via visual, tactile, olfactory, auditory or other sensory devices.
---
Subscribe to the Artlink newsletter now
Articles in this issue
---
Artist profile: Jane Trengove
Artist profile: John Kelly
Artist profile: Lynne Roberts-Goodwin
Artist profile: Michele Barker
Artist profile: Monika Tichacek
Artist profile: Ray Cook
Artist profile: Steven Holland
Artist profile: Tiffany Parbs
Artrave: Artrave
Editorial: The 'Improved' Body: Animals and Humans
Feature: Animal Love and Bestiality
Feature: Carnophilia
Feature: On Humans and Other Animals 'Becoming' Each Other
Feature: Sympathetic Magic: Skin and Canvas
Feature: The Extra Ear (or an ear on an arm)
Feature: The Work of Art in the Age of Biocybernetic Reproduction
Review: Hema Upadhyay, The Nymph and the Adult, Sung Kwon Park, (un)real, Eugene Carchesio, On Contemporary $ilence
Review: In correct syntax, Greg Leong, Mammad Aidani and Matthew Ngui,
Review: Love and Death: Art in the Age of Queen Victoria
Review: Morphologies
Review: Neo Tokyo - Japanese Art Now
Review: Petr Herel: Drawings, Prints and Artist's Books
Review: Play: An Exhibition for Children, Queensland Art Gallery
Review: Sally Rees: A Loft
Review: Singapore Nokia Art 2001
Review: The Bank West Inaugural Contemporary Art Prize, Perth Institute of Contemporary Art
Review: Touching from a Distance
Vis.arts.online: Vis.Arts.Online