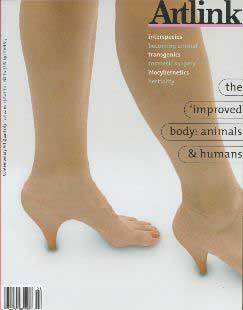 The 'Improved' Body: animals & humans
Vol 22 no 1, 2002
The implications of the new biotechnology for the human body and for the future of the species is visualised. Recent revelations that genetic makeup of animals is much closer to humans than was previously thought and possibilitues of trans-species hybridity is no longer just the stuff of myth or science fiction. Artists ask: how do we feel about becoming even closer to the animals we share the planet with? Current trends in surgery for transgender and cosmetic changes challenge notions of bodily identity. Writers include WJT Mitchell (Chicago) on Biocybernetics, George Alexander on Julie Rrap, Victoria Ryan on cosmetic surgery and art, Jane Goodall on Ella Dreyfus, Bronwyn Platten on bestiality, Anne Quain on transgenic pets.Also beautifully illustrated features on the works of Monika Tichacek, Sharon Goodwin, Michele Barker, Lynne Roberts-Goodwin, Juan Ford, Stelarc, Ionat Zurr and Oron Catts, Ray Cook, Helen Kundicevic, John Kelly, Jane Trengove, Stephen Holland and Tiffany Parbs.
You are here
»
Artlink
»
Vol 22 no 1, 2002
»
Steven Holland
Steven Holland
Artist: Mr Steven Holland, artist profile
Steven Holland's 'pests/pets, DEED and being' are a part of an ongoing series of ephemeral investigations into the representation of animal life. Underlining this is an exploration into the act of looking and the dominance of human vision. Holland was born in Dwellingup, WA, and studied at Curtin University, Canberra School of Art and at the Royal College of Art.
Steven Holland was born in Dwellingup, WA, and studied at Curtin University, Canberra School of Art and at the Royal College of Art, the latter as part of a Samstag Scholarship. He has works in many state gallery collections and has had eight solo shows and many art performances at contemporary art spaces and university galleries since 1989. He took part in Perspecta at the Art Gallery of NSW in 1991 and 1997 and is currently completing a commission, Memorial to Animals in War for the RSPCA in conjunction with the Australian War Memorial.

Holland states: 'pests/pets, DEED and being are a part of an ongoing series of ephemeral investigations into the representation of animal life. Underlining this is an exploration into the act of looking and the dominance of human vision. We love looking at birds. We see them everywhere, on rocks, on television. To a limited extent birds and insects are what they are because we can see them. They are visual surfaces for us to project meaning onto. But what sense of knowing do you have when a bird looks back? How unadulterated is your acceptance of the otherness of that bird?
'Each of these interactions with animals has its particular sensibilities. Some of the investigations like the pests/pets ant work sets out to undo certain human preconceptions about animals. The word pests, painted onto the studio floor was the basis onto which were added letters shaped from meat as a supplementary or contrasting text. An ant nest outside the studio was the source of the ants. It was a celebration of life as they cooperatively tore apart the superimposed meat letters and carted the bits off. Two other works; pOets and PUPpets also fed the ants and reflected upon paradoxical treatment of animals.

'DEED used birdseed and being used breadcrumbs as the food for the birds. In DEED the action of birds in a park over the period of a month reduced the sculpture of a human arm to a sword hanging in the tree while the word 'being' drawn on the paving in Dove House Green, London was instantly consumed by pigeons.

'Lamia's slippers is named after the John Keats' narrative poem of seven hundred lines in which a snake transforms into a lustful woman and back again. As objects the shoes are simultaneously animated by shape-shifting mythology and exploitation of exotic animals by the fashion industry.'

---
Subscribe to the Artlink newsletter now
Articles in this issue
---
Artist profile: Jane Trengove
Artist profile: John Kelly
Artist profile: Lynne Roberts-Goodwin
Artist profile: Michele Barker
Artist profile: Monika Tichacek
Artist profile: Ray Cook
Artist profile: Steven Holland
Artist profile: Tiffany Parbs
Artrave: Artrave
Editorial: The 'Improved' Body: Animals and Humans
Feature: Animal Love and Bestiality
Feature: Carnophilia
Feature: On Humans and Other Animals 'Becoming' Each Other
Feature: Sympathetic Magic: Skin and Canvas
Feature: The Extra Ear (or an ear on an arm)
Feature: The Work of Art in the Age of Biocybernetic Reproduction
Review: Hema Upadhyay, The Nymph and the Adult, Sung Kwon Park, (un)real, Eugene Carchesio, On Contemporary $ilence
Review: In correct syntax, Greg Leong, Mammad Aidani and Matthew Ngui,
Review: Love and Death: Art in the Age of Queen Victoria
Review: Morphologies
Review: Neo Tokyo - Japanese Art Now
Review: Petr Herel: Drawings, Prints and Artist's Books
Review: Play: An Exhibition for Children, Queensland Art Gallery
Review: Sally Rees: A Loft
Review: Singapore Nokia Art 2001
Review: The Bank West Inaugural Contemporary Art Prize, Perth Institute of Contemporary Art
Review: Touching from a Distance
Vis.arts.online: Vis.Arts.Online