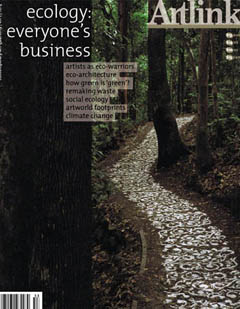 Ecology: Everyone's Business
Vol 25 no 4, 2005
Art in relation to the environment and ecology engages a distinct subgroup of artists around the world. They deal with waste and obsolescence, water, air and earth, health and toxicity. Eco-warrior artists work with science, technology, farming, water resources, recycling industries, health, to make art which communicates the urgency of action on climate change. This issue includes the recent work of Gregory Pryor, Michael Harkin, Ken Yonetani, Melissa Hirsch, Liz Woods, Lloyd Godman, Ian Hamilton, Bronwyn Wright, John Dahlsen, Ann Wizer, Alice Crawford and Chris Mulhearn. The 'green architecture' sector is critiqued by eco-architects Paul Downton and Emilis Prelgauskas and there is discussion of how the art sector as a whole needs to address the environmental impact of its activities. A social ecology where artists led by Jean Bojko work with the populations of small, neglected villages in France gives another perspective on what art can be and do.
You are here
»
Artlink
»
Vol 25 no 4, 2005
»
Bowerbirds and the Art of Ian Hamilton
Bowerbirds and the Art of Ian Hamilton
Leo Davis, feature
Ian Hamilton has approached some of the ideas surrounding sexual and asexual reproduction amongst organisms from a different perspective to those of biologists in his ongoing artistic studies. Hamilton began his work on bowerbirds when he was an Artist-in-Residence at Griffith University in 1976 during a visit to O'Reilly's national park south of Brisbane where he filmed and videotaped Satin Bowerbirds as they worked upon their bowers. He has drawn many parallels between the creative processes of Bowerbirds and artists and over the years the ongoing extinction of these birds has come to be a symbolic representation and reminder of the harsh ramifications of human activity on the natural world. Hamilton is based in Adelaide in South Australia.
---
Subscribe to the Artlink newsletter now