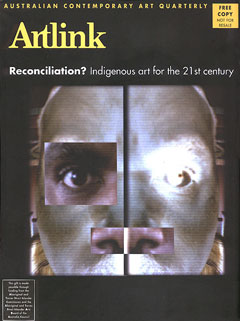 Reconciliation: Indigenous art for the 21st Century
Vol 20 no 1, 2000
A major survey of Australian Indigenous art, overviews and polemic, tributes to major artists, social issues, 'scandals ', the Stolen Generation, health and art, diverse practices, exhibitions and commissions, new museum displays, industry matters, labels of authenticity, copyright and moral rights, new media art with maps of areas of activity. 128 pages in full colour
SPECIAL OFFER! 3 Indigenous Back Issues for one special price

Order now!
You are here
»
Artlink
»
Vol 20 no 1, 2000
»
Bush Toys
Bush Toys
Author: Ms Liesl Rockchild, feature
Bush Toys was an exhibition of toys made from scraps of metal and copper wire by the male members of the Eastern Arrente tribe of Central Australia in the late 1990s. These recall the era when Aboriginal people were the backbone of the pastoral industry, as stockmen and horse trainers. There are miniature horses and riders, windmills and stockyards, and wooden 'cars' for children to push along or ride in. The toys are a source of great pride for the men who make them.
The toys of the Eastern Arrernte people in Central Australia embrace the unique beauty of a world of which they are a part. These community toys have been produced for many years, but always for use within the homelands where they are made. Now for the first time a national touring art exhibition of a collection of toys from three Aboriginal communities - Ltyentye Apurte (Santa Teresa), Titjikala (Maryvale Station), and Engawala (Alcoota Station) in Central Australia have been shown together for the first time outside the communities.

The toys of the Arrernte form an historical and contemporary expression of truth, their way of life. These toys serve to delineate a time, a place and its people. They speak of the major role Aboriginal people have played in the pastoral industry for the better part of last century, as drovers, saddlers, station hands and cooks, contributing valuable knowledge of the land, whilst maintaining culture and traditional country.
In the 1940s and early 1950s when station work was a way of life, toys, playthings and other games were created from materials in the natural environment and around the community, and from any other found or discarded materials. Children were encouraged to learn about and manage their surroundings. Fire was a regular tool for survival, used for highlighting animal habitats and plant matter, so children were taught to play with fire as they were with other implements such as shelters and weapons.

Close involvement with the pastoral industry led to toys imitating the intimate engagement that Aboriginal communities had over a lifetime with station work. Games involving 'wooden cars', or billycarts as they are known today, were played by all Arrernte children. The cars were constructed by attaching wooden wheels to a piece of board; old metal pipes were used to make the axles and were doubled over at the ends to hold the wheels in place. Pieces of rubber were stuck to the wheels to make imitation tyre treads. These cars were used by the kids to roll down the hills. Slides made from bullock hides, were used for the same purpose. They could carry up to 3 people and were pushed off the side of a hill with a stick, to help gain momentum.

A variety of other moving vehicles were also constructed. Small play cars known as 'little jeeps' were made using pieces of board bound with wire. Tobacco tin wheels were attached to them and an extended wire was used to drive the vehicles along the ground, accompanied by the appropriate motor sounds. Tin buggies, a simpler form of the little jeeps, were usually made from an empty jam tin or milk tin, with a wire running through it to push it along the ground. Tin buggies these days are more commonly referred to as 'bush trucks' or 'Toyotas'.

Usually found lying around remote Aboriginal communities, bush toys are made of salvaged materials, stripped from car bodies and found at rubbish tips. More often found in a used and disfigured state, the small horses and riders, trucks, windmills and helicopters in this exhibition are made of materials including tobacco and powdered milk tins, scrap metal, copper wire, old horse-shoes and small fragments of fabric. By embracing this technique of reusing materials the artists reconnect with the disrupted cultural practice of utilising found objects.

The toys range from flamboyantly dressed wire stockmen, a motorised helicopter to a simple horse and rider made of an old horseshoe. They have been made by boys often as young as ten years old and men as old as sixty living on their traditional lands, in celebration of their commitment to station life. However, between the eleven exhibiting artists there is a strong likeness throughout the body of works, this owing to the proximity of the communities and a shared history of station work. Furthermore the artists are close family members, which has led to knowledge and stories being passed from one to another. The practice of this artform encourages and preserves the exchange of knowledge and skill between community members. Art and culture within communities is cultivated by the imparting of information from older people to the young, and so the exchange of artistic and cultural knowledge in this way is pivotal to the way in which the Aboriginal people of the Central Desert live.
The exhibition Bush Toys offers a striking analogy to the extremes that Aboriginal stockmen in Central Australia encountered in their day-to-day life. Although harsh and rugged in appearance, many of these toys have been made with great skill, finesse and attention to detail.

The exhibition is travelling for two years to one metropolitan and one regional gallery in each state

---
Subscribe to the Artlink newsletter now