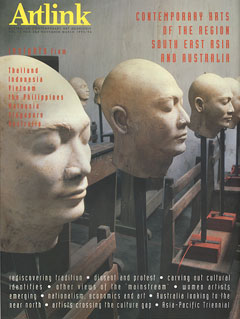 Contemporary Arts of the Region: SE Asia & Australia
Vol 13 no 3&4, 1993
Articles on contemporary art from Vietnam, Thailand, Indonesia, Malaysia and Singapore commissioned by local editors. Surveys of the important movements of modern times up to nineties in each country. Tension between traditional cultural expression and internationalism. Art made in response to political conditions and for its own sake. Dawning of western appreciation of contemporary SE Asian art and the beginning of overseas market for the work. Classic snapshot of this exciting time of pioneering new ventures in SE Asia.
You are here
»
Artlink
»
Vol 13 no 3&4, 1993
»
Writing About Craft
Writing About Craft
Author: Ms Nola Anderson, feature
What is the relationship between the art or craft object and its maker? This question is put from the Philippines in relation to crafts and compares the importance of the origin or culture of the maker in that country to that in Australia. Students of Philippine crafts have applied the 'mapping' method which helps to understand the depth of tradition and their subsequent evolution into urban variants. Writers on the crafts are developing ways of exploring these questions.
The full text for this article is yet to be uploaded.
---
Subscribe to the Artlink newsletter now