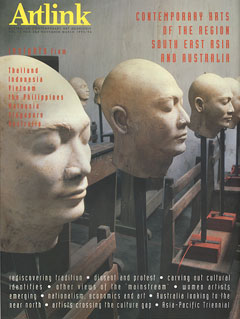 Contemporary Arts of the Region: SE Asia & Australia
Vol 13 no 3&4, 1993
Articles on contemporary art from Vietnam, Thailand, Indonesia, Malaysia and Singapore commissioned by local editors. Surveys of the important movements of modern times up to nineties in each country. Tension between traditional cultural expression and internationalism. Art made in response to political conditions and for its own sake. Dawning of western appreciation of contemporary SE Asian art and the beginning of overseas market for the work. Classic snapshot of this exciting time of pioneering new ventures in SE Asia.
You are here
»
Artlink
»
Vol 13 no 3&4, 1993
»
Introduction to Art in Vietnam
Introduction to Art in Vietnam
Author: Mr Nguyen Quan, feature
Vietnam has a long and diverse cultural history with strong sculptural traditions of Dong Son and Cham ethnic groups. At various times artists went to Europe to study and French art was a strong influence. In the north a socialist realist mode flowered in the 60s and 'formalism' was repudiated. Printmaking and political posters were strong during the war. Now painting flourishes; in Hanoi 'the village' is an inspiration, in Saigon various western styles are seen.
The full text for this article is yet to be uploaded.
---
Subscribe to the Artlink newsletter now