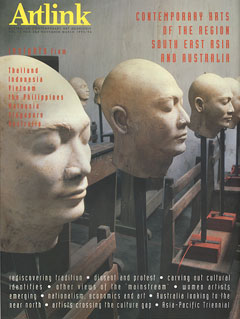 Contemporary Arts of the Region: SE Asia & Australia
Vol 13 no 3&4, 1993
Articles on contemporary art from Vietnam, Thailand, Indonesia, Malaysia and Singapore commissioned by local editors. Surveys of the important movements of modern times up to nineties in each country. Tension between traditional cultural expression and internationalism. Art made in response to political conditions and for its own sake. Dawning of western appreciation of contemporary SE Asian art and the beginning of overseas market for the work. Classic snapshot of this exciting time of pioneering new ventures in SE Asia.
You are here
»
Artlink
»
Vol 13 no 3&4, 1993
»
Thawan Duchanee: Art and Philanthropy
Thawan Duchanee: Art and Philanthropy
Author: Ms Lindy Joubert, feature
Thawan Duchanee is a successful Thai artist whose studies abroad helped him to create a new Thai art which is a hybrid of western and eastern ideas. He set up a museum in Chiang Rai to promote all the contemporary Thai arts and has funded many scholarships. He was a resident artist at the University of Melbourne April-May 1993 where he created a huge painting as well as an 'Oz' version of his Thai homes using various elements as votives to nature.
---
Subscribe to the Artlink newsletter now