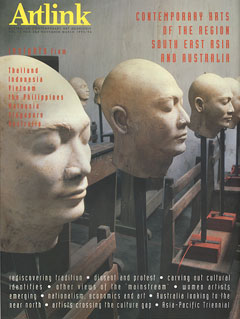 Contemporary Arts of the Region: SE Asia & Australia
Vol 13 no 3&4, 1993
Articles on contemporary art from Vietnam, Thailand, Indonesia, Malaysia and Singapore commissioned by local editors. Surveys of the important movements of modern times up to nineties in each country. Tension between traditional cultural expression and internationalism. Art made in response to political conditions and for its own sake. Dawning of western appreciation of contemporary SE Asian art and the beginning of overseas market for the work. Classic snapshot of this exciting time of pioneering new ventures in SE Asia.
You are here
»
Artlink
»
Vol 13 no 3&4, 1993
»
To be an artist
To be an artist
Author & Artist: ms Araya Rasdjarmrearnsook, feature
The author recounts her education in a Thai boarding school under the male patriarchal system. As an artist she has tried to come to terms with her upbringing and her work has reflected the situation for her mother and grandmother as well as the death from cancer of her father. She describes her installation work 'Dinner with Cancer' as a commentary on consumption - "humans are not only consumers, they are also being consumed".
---
Subscribe to the Artlink newsletter now