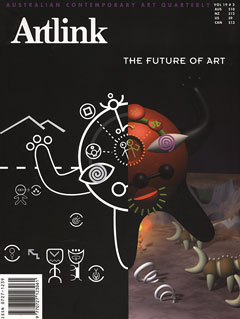 The Future of Art
Vol 19 no 2, 1999
Speculations about art practice, art education, and questions of access to art are illustrated by case studies of five individual artists, and analyses of the state of play in our educational institutions and surveys of new media, regional and multicultural debates. Professionalism for artists is examined, tax and copyright, as well as e-commerce as a new direction for marketing. Curators address the changing role of art museums in relation to new work.
You are here
»
Artlink
»
Vol 19 no 2, 1999
»
Upping the Ante: SALA'99.Leter to the Editor
Upping the Ante: SALA'99.Leter to the Editor
Author & Artist: Mr Paul Greenaway, feature
Describes the nature of SALA South Australian Living Artists Week to celebrate the talent and imagination of SA artists and aims to promote widespread recognition of their achievements by exposing their work to new audiences. There were 50 venues, 28 of which were outside the metropolitan area.
---
Subscribe to the Artlink newsletter now