Rapt! 20 Contemporary Artists from Japan Nobuya Hoki, Tomoaki Ishihara, Yuki Kimura Monash University Museum of Art (MUMA) Clayton, Victoria 6 Sept 18 November 2006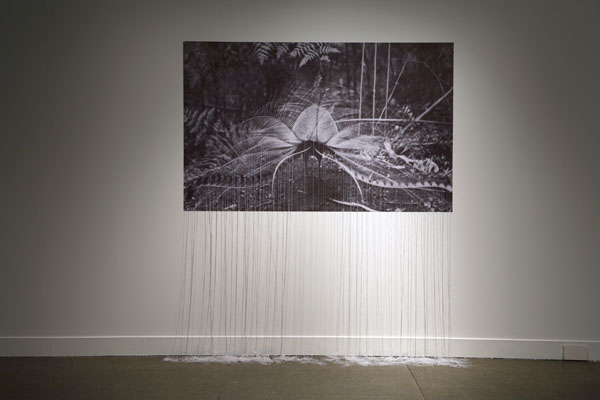 Celebrating a year of exchange between Australia and Japan, Rapt! was a program of exhibitions, residencies and public events around Australia. It was curated by Yukihiro Hirayoshi (Curator, National Museum of Art, Osaka); Shihoko Iida (Curator, Tokyo Opera City Art Gallery); Fumihiko Sumitomo (Curator, Museum of Contemporary Art, Tokyo); and an Australian advisory board led by Philip Brophy, Max Delany, Stuart Koop and Kathryn Hunyor. It aimed to break down traditional stereotypes of Japanese art, encouraging a fresh and independent understanding that moved beyond the usual fare of anime and high-tech work. As part of the event Monash University Museum of Art showcased three artists from Kyoto-Nobuya Hoki, Tomoaki Ishihara and Yuki Kimura-whose work investigated the modern experiences of intimacy, history and connection.
Nobuya Hoki's linear paintings on paper were inspired by traditional Japanese painting, manga and anime. His monochromatic works were expressive and intimate, playing with exaggerated distance and scale. Landscapes, portraits and a wall of floor-to-ceiling papers of different sizes invited the viewer into worlds of awe-inspiring mystery. Most striking was a forest scene, with its maroon background, black line work and the subtle introduction of white which lifted and drew the eye to minute details of leaves and rocks.
The sculptures, photographs and paintings of Tomoaki Ishihara explored the notion of seeing and being seen. The over-sized black and white self-portraits were made using an electron microscope to examine minute cells of his body, including pubic hairs and scabs. Offering both microscopic and macroscopic scales and perspectives, the viewer was presented with raw and honest self-portraits. Also featured were paintings constructed with gold leaf and Braille titled Blind is Love, which evoked the beauty and intimacy of touch.
Yuki Kimura's installation featured a darkened room glowing with white fossil-like sculptures, a video projection, two works on paper and a small spotlight. The spotlight enhanced the sense of times past by continuously tracing the fossils. On the walls were two works on paper, one of a lyre bird and the other a landscape. Extensive amounts of white cotton thread was sewn into the paper and ended in a mass on the floor. It was as if the works were crying, their delicacy and tactile nature creating a solemn and contemplative ambience.
Rapt! exhibitions were held in Sydney and ten sites in and around Melbourne, including the Centre for Contemporary Photography, Gertrude Contemporary Art Spaces, RMIT Project Space, West Space and Kings Artist Run Initiative. MUMA's showcase of three artists allowed viewers an insight into the current concerns and deliberations of contemporary Japan by presenting works that dealt sensitively with issues surrounding human existence in modern society.
Olivia Poloni
This review was written as part of the Gertrude Studios Emerging Writers Program